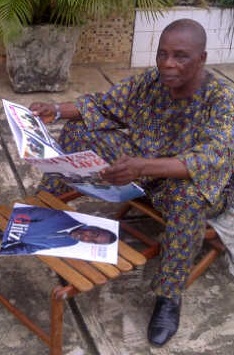 ABOUT THE AUTHOR
Comrade UZOIJE UKAUMUNNA was born at Mgbokoanya in Mgboko Umuanunu Autonomous Community of Obioma-Ngwa Local Government, Abia State. He was chairman and co-author of the book "Obingwa Profile". He has written numerous articles and papers on Nigerian problems, among which are "Constitutional Job for all Nigerians" (Sunday Times, 1st May 1966), "Thought on Nigerian Constitution" (New Nigerian, 26th February 1976) and a "Nine-Page Memorandum to the Constitution Drafting Committee" (Federal Republic of Nigeria, Gazette Vol. II P. 35 No. 337, 1976).
Comrade Uzoije is a unionist and the National President of Dock Workers' Union of Nigeria (1993).He is an associate member of Nigerian Institute of Management. He is happily married with children.After watching the events of this great country for the past 30 years, he was motivated to write this book in 1984.
NIGERIA TODAY : GUIDE TO SURVIVAL
NIGERIA has spent much time and effort trying to prove to the world that she can develop in place of actually trying to develop. She has come up with development plans all geared towards this direction but it has not paid off and many people wonder why development has eluded Nigeria.
This is explained as dependency and imitation of the Western model of development. Our adopted model has rather produced squalor, poverty, ignorance and dependent under-development despite our endowment with vast human and natural resources. The book attempts to re-examine the existing strategies for development in Nigeria and could result in self reliant development. As a complex historical narrative becomes closely interwoven, self-reliance is therefore multi-disciplinary and embraces several aspects of social life.  Self-reliance has a psychological component directed at the masses to show that they can initiate development themselves without leaning on foreign aid and experts of dubious value. Copiously outlined in this book are measures for the improvement of the capacities of citizens to earn and attain a socially acceptable minimum level of living through the activities of co-operative associations.
The realization of a self-reliant development has been handicapped by the presence of various obstacles including economic, political, cultural, institutional and religious factors. There is absence of genuine pro-development sentiments and the quality of administrators who manage a system bedeviled with corruption, bribery, inefficiency and waste. The text further highlights the need to organize Nigerians led by their "Leaders" in the areas of efficient exploitation of the available material resources and the extension of mass participation in construction, operation and maintenance of all facilities.
An alternative strategy for self-reliant Nigeria is also recommended. This strategy falls into two major areas, namely psychological and socio-economic mobilization of the citizens. These recommendations are made on the assumption that Nigerians want a strong and purposeful government, the type that disregards and abhors ethnic loyalty and sentiments.
Finally, we need to appreciate the efforts of Mr. Uzoije Ukaumanna, who, despite the hectic schedule in the maritime industry, is still able to come up with such an interesting and comprehensive text. The book attempts to identify and proffer solutions to the prevailing Nigerian self-reliant problems.
Nevertheless, I strongly recommend the text most especially to our various policy-makers and the Social Sciences undergraduates who will eventually grow up to be tomorrow's leaders.
ADEBAYO B. SARUMI